If you plan visiting Munich, Bavaria's beautiful capital, but don't know exactly where to go and what activities to do, then we would like to give you some advice. In the following, our Hostel Munich gives you an overview about the 10 must-see and must-do things while visiting Munich. Of course, there is something for everybody.
Visiting Munich – The famous Oktoberfest
If you plan to visit Munich in mid-september then you should not miss the famous Oktoberfest. Since 1810 the annual fair takes place at the Theresienwiese. The next one starts on the 22nd September 2018. Beer, music and lots of crazy rides are waiting for you.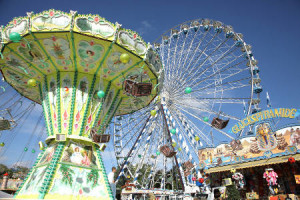 Tollwood Festival
How about some cultural experiences while visiting Munich? The Tollwood Festival takes place twice a year – every summer and winter. It provides the best musical performances of local, national and international artists as well as workshops and different exhibitions. The next Tollwood Festival in 2017 starts on November 23rd and ends on December 31st. It takes places at the Theresienwiese like the Oktoberfest.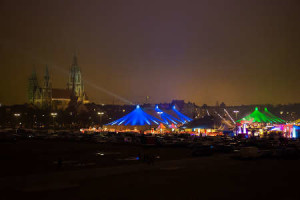 Visiting Munich – Marienplatz & Stachus
The Marienplatz and Karlsplatz (mostly called Stachus) are the heart of Munich, so don't miss going there. If you love shopping, then those are the best places for you. You can go for a walk while entering the shops and malls and take a break at the restaurants there. If you love taking pictures, those places are truely a beautiful and authentic setting.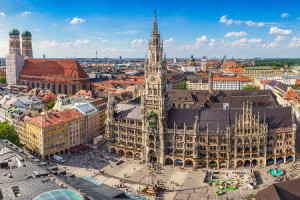 Englischer Garten
The ,,Englischer Garten'' is a large garden built after the english example of landscape gardening. It's not only a beautiful place to relax and to go for a walk, but there are also several sights to see as ,,Der Chinesische Turm" (chinese tower) and a lot of restaurants providing very good dishes of almost every cuisine.
Olympiapark
The Olympiapark offers the olympia tower, where you get the chance to see whole Munich from above. The park provides also plenty of other stuff, like the famous Sea-Life, if you are interested in underwater creatures and the famous Zeltdach where concerts are played by national and international artists. You can also play golf or take a trip with a boat. Don't miss it while visiting Munich.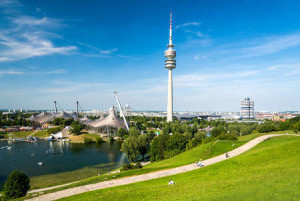 KZ in Dachau
The KZ (concentration camp) in Dachau is a very interesting place to visit. Dachau is a town nearby Munich, which you can easily visit with the S2 to Petershausen or Altomünster. You can book a tour or explore the whole KZ by yourself. If so, then we recommend you to use the audio guide, giving you a lot of comments on the several places you visit there. It's definitely a worthy and interesting journey through time while visiting Munich.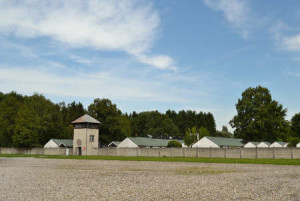 Schloss Neuschwanstein
What about touring through a pompous castle while visiting Munich? We totally recommend you the Schloss Neuschwanstein in Schwangau, near Munich. Schloss Neuschwanstein has been the home of King Louis the 2nd. Explore the life and circumstances of the 19th century.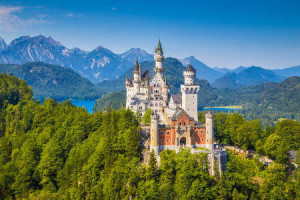 Schloss Nymphenburg
If you want to visit a castle more within Munich, then Schloss Nymphenburg is the best choice. This large and pompous complex has been the summer residence of King Max Emanuel in the 17th century.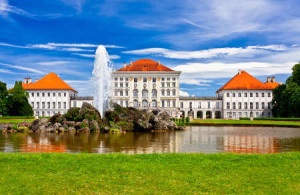 Visiting Munich – Fun at the Allgäu Skyline Park
If your are looking for fun activities to do while visiting Munich, then we totally recommend you the Allgäu Skyline Park, especially when you plan visiting Munich with your kids. The Skyline Park is an amusement Park with a lot of attractions such as roller coasters, water slides and carrousels for kids. The Allgäu Skyline Park is located near Bad Wörishofen, only one hour away from Munich.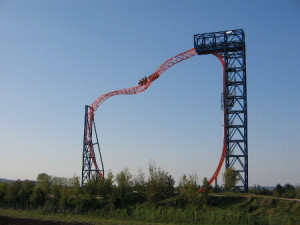 Neue Pinakothek & Pinakothek der Moderne
If your are interested in arts, you should not miss these museums while visiting Munich. The new Pinakothek provides you the best works of art from artists als Claude Monet or Vincent Van Gogh. If you are more into modern arts, then you should visit the Pinakothek der Moderne which offers you the best of modern arts. Our Tip: The entrance fee on sundays is only 1 Euro per person for each of these museums.
Of course there is a lot more to see and to do while visiting Munich. Hopefully we made you more excited about visiting Munich and maybe we will meet at our cheap and fine hostel. Don't miss our other blog posts, if you want to get to know Munich a little better.
Copyright Hinweis: © Fotolia.com/Mapics
Copyright Hinweis: © Fotolia.com/Thaut Images
Copyright Hinweis: © Fotolia.com/Andy limberger
Copyright Hinweis: © Fotolia.com/Noppasinw
Copyright Hinweis: © Fotolia.com/Auris
Copyright Hinweis: © Fotolia.com/euregiocontent
Copyright Hinweis: © Fotolia.com/graphlight
Copyright Hinweis: © Fotolia.com/JFL Photography
Copyright Hinweis: © Fotolia.com/tilialucida
Copyright Hinweis: © Fotolia.com/Tamara Reinisch
Copyright Hinweis: © Fotolia.com/rudiernst